Canker Sores and Cold Sores
Cold sores are multiple, small, pus - filled lesions around the lips caused by a virus, while canker sores are ulcers due to an unknown cause found anywhere in the mouth.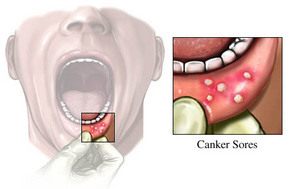 There is a common confusion between cold sores and canker sores. Both of these conditions are very different from one another.
Cold sores are caused by a Herpes Simplex type 1 virus that is usually contracted during childhood. The virus causes multiple, tiny, pus filled blisters to form at a certain region on the upper or lower lip. These blisters tend to coalesce into one, large blister which lasts up to 7-10days. The blister dries over the time span and forms a crust which may crack and exude the pus containing the virus. This is extremely contagious and once contracted, the viral infection cannot be cured.
Cold sores form by systemic triggers such as a fever, cold or even stress. These systemic signals trigger the hidden virus to come up to the skin surface and form the blisters. The blister is itchy, painful and sensitive, and can be relieved by certain anti-viral creams and oral gels.
Canker sores, on the other hand, are caused by idiopathic or unknown factors. They are also known as recurrent aphthous ulcers. These are ulcers which form inside the mouth on the inner linings of the lips, cheeks, the soft palate or the floor of the mouth. The lesions can last from 7 to 14 days and heal spontaneously. They are not caused by any viral infection and the reason for their occurrence is still unknown.
Canker sores, while they heal spontaneously, can be relieved by oral gels that locally relieve the pain and discomfort caused by the ulcers by forming a coating on top of them. Doing warm saline rinses also brings relief to the ulcers and acts as an anti-septic as well.
Offfice Listing
blog comments powered by

Disqus