Cold Sore Treatments
Are you finding it difficult to open your mouth? Are you suffering from cold sores? Commonly known as "fever blisters", cold sores are a nickname for cold sores of mouth.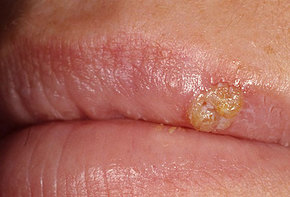 Are you finding it difficult to open your mouth? Are you suffering from cold sores? Commonly known as "fever blisters", cold sores are a nickname for cold sores of mouth. They are simply not good and one can become ashamed of the sores in public – not to mention how uncomfortable they are. Well, what are cold sores? What causes them and how can they be prevented? Keep reading for the answers and best cold sore treatments that you can follow.
Caused by Herpes virus HSV-1, cold sores are bright red sores that appear on the outside of your lips. At times they may grow to an extent that you can't open mouth without cracking them, which eventually cause more pain. Children are most susceptible to this condition. It should be noted that newborn or kids who are suffering from health conditions like malnutrition, immune deficiency and skin problems like eczema are more susceptible. If not treated on time and properly, the virus causing cold sores can travel into your blood stream and stay invade the internal organs. Once it is inside your body, it can erupt again.
How do cold sores spread?
Cold sores are contagious and you have to be very careful in not sharing your utensils with other people. The virus can spread if the person affected bites you or suck you (in case of kids).
Cold sore treatments
There are several treatments to alleviate pain from this medical condition, but there is no cure. You can apply anti-viral creams like acyclovir cream or anesthetic creams to decrease pain. If you have very severe infection, you may require oral medication. Here are a few more treatments:
Lysine: This can be taken as an oral supplement or you can use a topical ointment that contains lysine to get rid of cold sores. Lysine is an amino acid that helps in repairing body tissues. However, it is not produced in the body and you have to supplement it.
Milk: This is yet again a very good remedy to treat cold sores. Soak a cotton ball in a small amount of milk. Press that on the cold sore until the milk reaches room temperature. Remove t from there and don't wash the milk off from the skin.
Silica gel is as effective as acyclovir cream in treating people affected with recurrent Herpes labialis or HSV-1. According to a study conducted on 74 patients, it was seen that while there was no significant difference between silica gel and acyclovir cream, evidence suggested that silica cream did offer faster relief from cold sores as compared to the acyclovir cream. Both the creams were well tolerated by the patients.
(Ref: http://www.ncbi.nlm.nih.gov/pubmed/18569274)
How to prevent cold sores?
You can prevent recurrence of cold sores by:
- Reducing exposure to bright light, stress and fatigue.
- If possible avoid extreme weather temperatures.
- Clean your kid's toys regularly.
- Never allow to share utensils, food or makeup.
- Take a well balanced diet with lots of fresh fruits and vegetables.
- Never allow your kids to go to public places if they have severe infection.
- Maintain good hygiene.
- Use creams or balms to moisturize your lips and prevent them from cracking.
While there are many people who claim to treat cold sores by using natural treatments, it is best to show yourself to a doctor. He will be able to tell what is the best treatment for you and exactly how severe is your problem. Remember, cold sores can't be cured, but they can be treated.
blog comments powered by

Disqus